Dr. Serena Elias, DA, AP
Welcome
Classical Chinese Acupuncture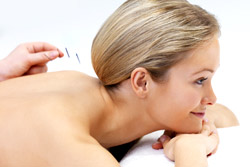 3085 East Commercial Blvd
Ft. Lauderdale, FL 33308
My training includes years at the Oriental Medical College in Warwickshire, England under one of the most respected Acupuncture Physicians in the world, Professor J.R. Worsley. Professor Worsley received his acupuncture lineage from his Master Teachers, Master Ono and Master Hsui, with whom he studied in the Far East in the 1950's and 1960's. At the conclusion of this invaluable training and education, I opened my own Classical Chinese Acupuncture practice in Ft. Lauderdale with the Five-Element acupuncture principles taught by Professor Worsley.
I am an Acupuncture Physician with over 15 years experience. I've devoted my life to practicing acupuncture because of what it does for people, naturally, without pharmaceutical drugs or surgical procedures.
Many times, patients seek acupuncture as a last resort, after exhausting other western medical treatments. After trying acupuncture, most people usually tell me they wish they would have tried acupuncture first and feel they could have avoided unnecessary suffering and costly medical expenses.
Classical Chinese Acupuncture does not separate the body, mind, and spirit. The patient is treated as a whole and not only for their symptoms. Meaning, if 10 patients suffer from migraine headaches, they will not all get the same "migraine treatment" but will each have their own individualized treatment plan. There will be different reasons why each person is suffering from migraines. For example, one person may have a food or chemical sensitivity, one may have a hormonal imbalance, one with stress, and so on... and their treatment plan will relect this.
Acupuncture has the ability to help improve any condition. How much and how fast all depends on your own body's natural response to the treatment and any influential external factors in your life. Over the years, I've seen many patients for a variety of reasons. Most commonly, I treat people for:
Pain - back, neck and joint
Migraines
Inflammatory conditions/diseases
Sciatica
Neurological disorders/numbness/tingling
Cancer/Chemotherapy side effects
Digestive Disorders
Depression and anxiety
Addictions - chemical and food
Infertility and Menopause
Allergies
Cardiac Diseases/High Blood pressure
Sleep Disorders
Skin conditions
Children's health issues, physical and emotional
The Classical Chinese Acupuncture Clinic is located at:
3085 East Commercial Blvd
Ft Lauderdale, Florida 33308
954/292-0534
(Near Intersection of Bayview Dr. and E. Commercial Blvd.)
Contact for appointment
To get in touch with me, just click on "Contact Me" and send me a message.
Thanks for visiting, and remember that it's never too late to start living a healthier lifestyle.